Let's join Karen as she gives us a peek into her busy life at one of our residential PWS Services.
Monday
After breakfast, Karen likes to start her week organized and spends the morning cleaning and sorting her room so she's prepared for the days ahead. When everything is sparkling, she's ready to head out to her art class to show off her painting skills and get creative before winding down and relaxing at her massage session.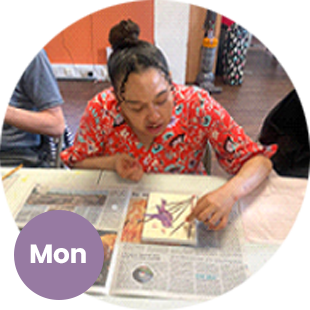 Tuesday
On Tuesday, Karen goes for a morning walk to get the day started and spends some time at home doing some in-house activities with the people she lives with. Then after lunch at home, it's off to her Musical Magic session to get moving and grooving. After an active day, Karen likes to chill out at home with a hot chocolate.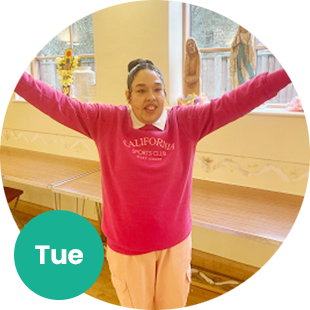 Wednesday
Wednesdays are for peace and quiet – Karen has a relaxing morning before heading out for a leisurely walk around the local park to stretch her legs and spend some time outdoors before having a calm day at home. She loves to make some popcorn, find the coziest blanket and have a movie night with her friends.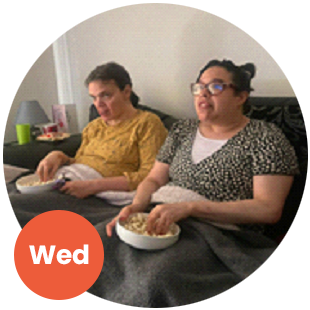 Thursday
After a day of rest and relaxation at home, Karen and her support worker head off for a day out. This week she had a great time diving into ball pits and exploring at a multi-sensory experience in London which was so much fun. Karen always picks something exciting to do – next up is the funfair so she can beat everyone at dodgems.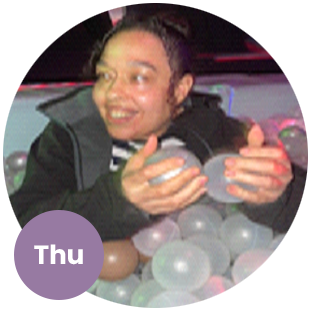 Friday
Karen is always keeping active so after her regular park walk in the morning, she heads off to the supermarket to do some grocery shopping with the team and gets everything she needs for the week ahead. After a job well done, she heads back home and enjoys a delicious takeaway.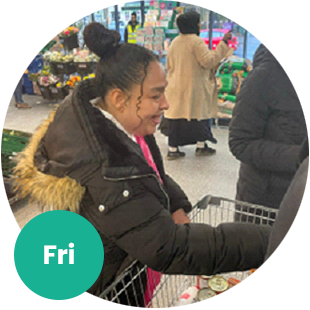 Saturday
On the weekend if Karen doesn't have plans she spends the morning doing activities at home, whether it's art, movies or games before her afternoon baking session.
Karen loves getting involved with planning and cooking, and is always willing to get her hands dirty making some treats!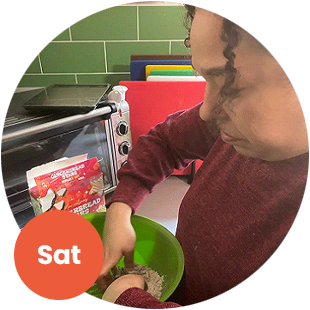 Sunday
After a busy week, Karen starts off her Sunday by heading out to her local Church Service, before coming home for their traditional Sunday roast dinner with everyone.
In the afternoon, Karen helps the team pick the menus for the next week and spends time with.